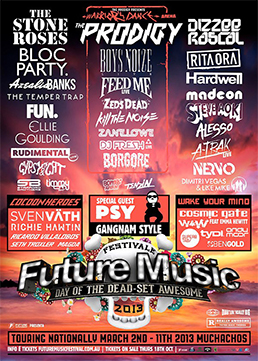 Future Music Festival travels to Asia in 2013
The Prodigy will present their Warrior's Dance Arena as part of Future Music Festival's epic line up taking place in Malaysia on 16th March 2013. The festival takes place over 2 days and will feature multiple stages and an international line up including a headline show from The Prodigy themselves. Tickets go on sale on Nov 16th.
For more info & tickets visit: www.futuremusicfestival.asia / www.facebook.com/futuremusicasia
Please note this event is for Over 18s only.