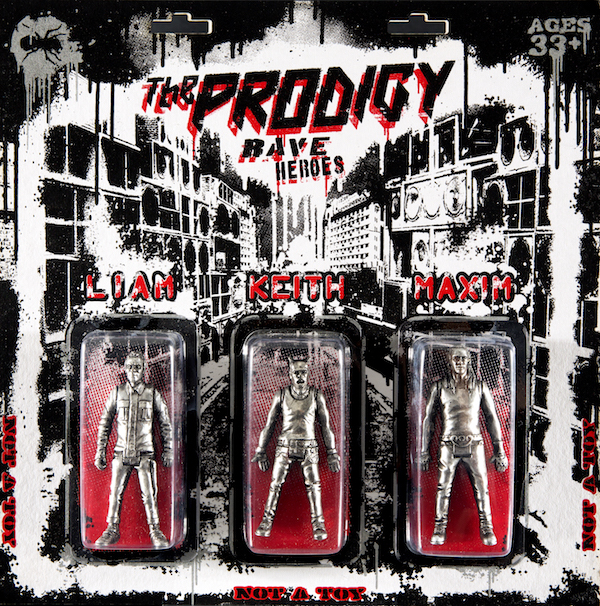 The Prodigy & UK Artist RYCA Reveal 'Rave Heroes'
THE PRODIGY & UK ARTIST RYCA REVEAL 'RAVE HEROES' ART COLLABORATION
Click here to pre-order now from the Prodigy web store
The Prodigy announce an exclusive limited edition art figures collection with award winning British Artist RYCA (aka Ryan Callanan). RYCA is well known for his series of hip hop legends including figures of biggie, 2pac and eazy-e which led him to approach the band to make his 'rave heroes' collection.
The partnership has resulted in the creation of a strictly limited, hand sculpted set of chrome-plated 3.75" scale art figures featuring band members Liam Howlett, Keith Flint and Maxim.
Highly collectible, Ryca has produced a limited edition of 250 sets using styling clay and modelling wax to produce a silicone mould from which resin casts are made.
In addition to these there are 10 sets gilded in 23.5ct gold leaf, not available for purchase anywhere, but sent out at random to ten buyers of the original 250 sets of art figures sold.
The boxes feature backdrop artwork from the band's live shows and are silkscreened and hand printed for each spot colour. Every box is individually numbered and hand signed by Liam, Keith, Maxim and Ryca.
General release begins Friday April 7th at 10am BST with sets available from theprodigy.com and Art Republic
RYCA (Ryan Callanan) is an award winning artist based in Essex, UK. Already a prominent artist on the Street Art scene, the last three years have seen Ryan move away from this aesthetic towards a new practice that draws upon his in-depth knowledge of materials and craftsmanship acquired through his training in industrial model making and 3-D design.
On teaming up with Prodigy RYCA said "The Prodigy have been the soundtrack in my life since I was playing with action figures, I'm now immortalising my rave heroes as art toys …".
Watch a short video of the art figures being made below.